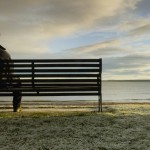 I was a boy, fourteen years old when we first met. I remember everything like it happened only yesterday. The careful first approach, the first eye contact. A shy touch and then, faster than I could ever have imagined, the first kiss. Ah, I remember it so well, there, out behind the school playground. You tasted of peppermint. At first I was a bit shocked by it all. The excitement, I felt a bit unsettled. But you helped me through that difficult spot with ease. Your natural charm made sure that it only got better from then on. And from that first day, we have been inseparable. Wherever I went, you were always with me. Keeping me company. With your style. All my friends were so very much impressed. They hadn't gotten this far yet. Oh how I enjoyed this extra attention. How it made my own confidence grow…
In the beginning I kept our love a secret for my parents. I knew what they would say. Far too young for that sort of adult things. And maybe they were right. But it only enhanced the tension, the excitement. As we got older our love grew bigger. You supported me for better and for worse. We were literally inseparable. I earned enough money to be able to support you. And in return you were always there when I came home from work. Always there when I needed you. And when we went out, I protected you from wind and rain. Friends said 'You two belong together. " And they were right.
But the more the years progressed, the greater became the doubts I had about you. I have just celebrated my thirty eighth birthday and more and more I feel that by now I should be going it alone. The love we had has silently passed. Pure hatred has replaced it. I struggle with your presence. Really, the longer we are together, the more you are killing me. All around me my friends say "She is not good for you, you have to leave her."
In my wildest dreams I can already do that. Abandon you. Live without you. And if you follow me, I will kill you. I will squash your ugly face into a pulp with the heel of my boot. And always at that exact moment I wake up in terror, bathed in sweat. I know, I am not up to it yet. The loneliness is still too much to bear for me. But one day, one day I will leave you. One day I will be happy without you my dearest Nicotine.